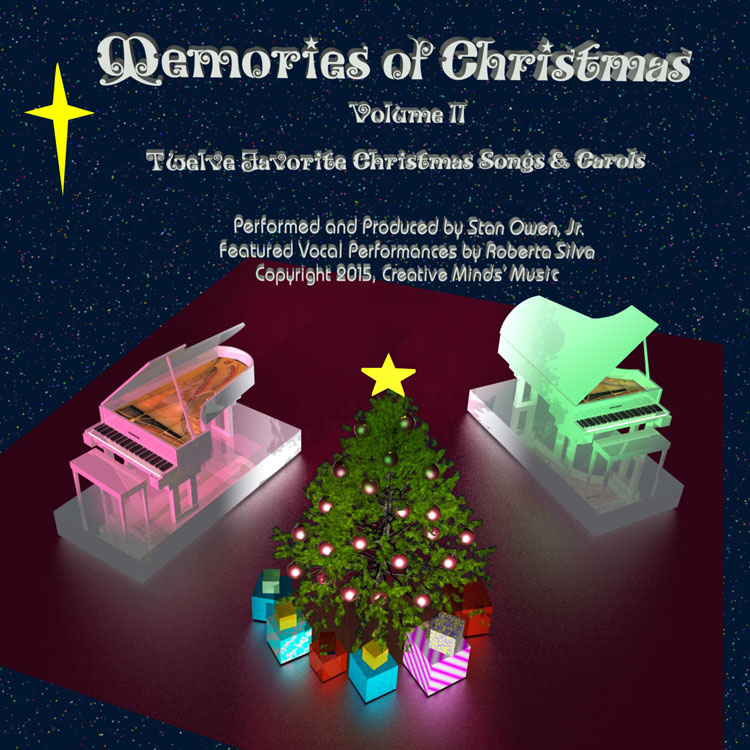 This year, my Christmas music-project is my selection of your and my favorite songs and carols from previous Christmas projects, 2007-2014. I have included all recordings made by Roberta Silva and me since the first volume of "Memories of Christmas" (2006).
Each of these songs has a rich history. Some of these I will later share. The only new performance for this year had been intended to be a medley that included "Silent Night" and "Adeste Fidelis." However, 2007's "Christmas Fantasia" project also includes both of these songs. David Lowe's included organ arrangement, "Prelude, Fugue, and Toccata on Adeste Fidelis" features the piece again. It seemed that a third arrangement of "Adeste Fidelis" in this year's project would have been excessive. This recording will wait its turn in an upcoming year's project.
The included arrangement of the "Hallelujah Chorus" for brass and strings is by me. It is also from 2007. I was never pleased with certain aspects of the 2007 version. So, the 2015 Christmas season, I placed the work back onto the potter's wheel and gave it a re-spin. Now, in 2017, I'm thinking about throwing it back onto the wheel and giving it another spin… Please stay tuned.
Without hesitation I will say that my favorite piece in this group is the last one, Roberta's 2008 recording of "Some Children See Him." I transcribed Dave Grusin's arrangement of this and "In The Bleak Midwinter" from the "James Taylor At Christmas" CD. I hope that you find the piece and Roberta's beautiful performance as emotionally moving as I do.
Merry Christmas & Season's Greetings from Stan Owen, Jr. and Creative Minds' Music.
Click on the mp3 player to play

| Title | mp3 Audio | Composer |
| --- | --- | --- |
| In The Bleak Midwinter | mp3 | Harold Edwin Darke, arr. Dave Grusin |
| Christmas Fantasia | mp3 | Various, arr. Carl F. Mueller |
| O, Little Town Of Bethlehem | mp3 | Lewis Henry Redner, arr. Harold DeCou |
| Do You Hear What I Hear | mp3 | Gloria Shayne Baker, arr. S. Owen, Jr. |
| Carol Of The Drum | mp3 | Katherine Kennicott Davis, arr. Harold DeCou |
| Go Tell It On The Mountain | mp3 | Traditional, arr. Harold DeCou |
| I Wonder As I Wander | mp3 | John Jacob Niles, arr. S. Owen, Jr. |
| Sleigh Ride | mp3 | Leroy Anderson |
| Willy Evergreen | mp3 | John Von Spreckelsen, arr. S. Owen, Jr. |
| Hallelujah | mp3 | George Frideric Handel, arr. S. Owen, Jr. |
| Prelude, Fugue, and Toccata on Adeste Fidelis | mp3 | John Francis Wade, arr. David Lowe |
| Some Children See Him | mp3 | Alfred Burt, arr. Dave Grusin |