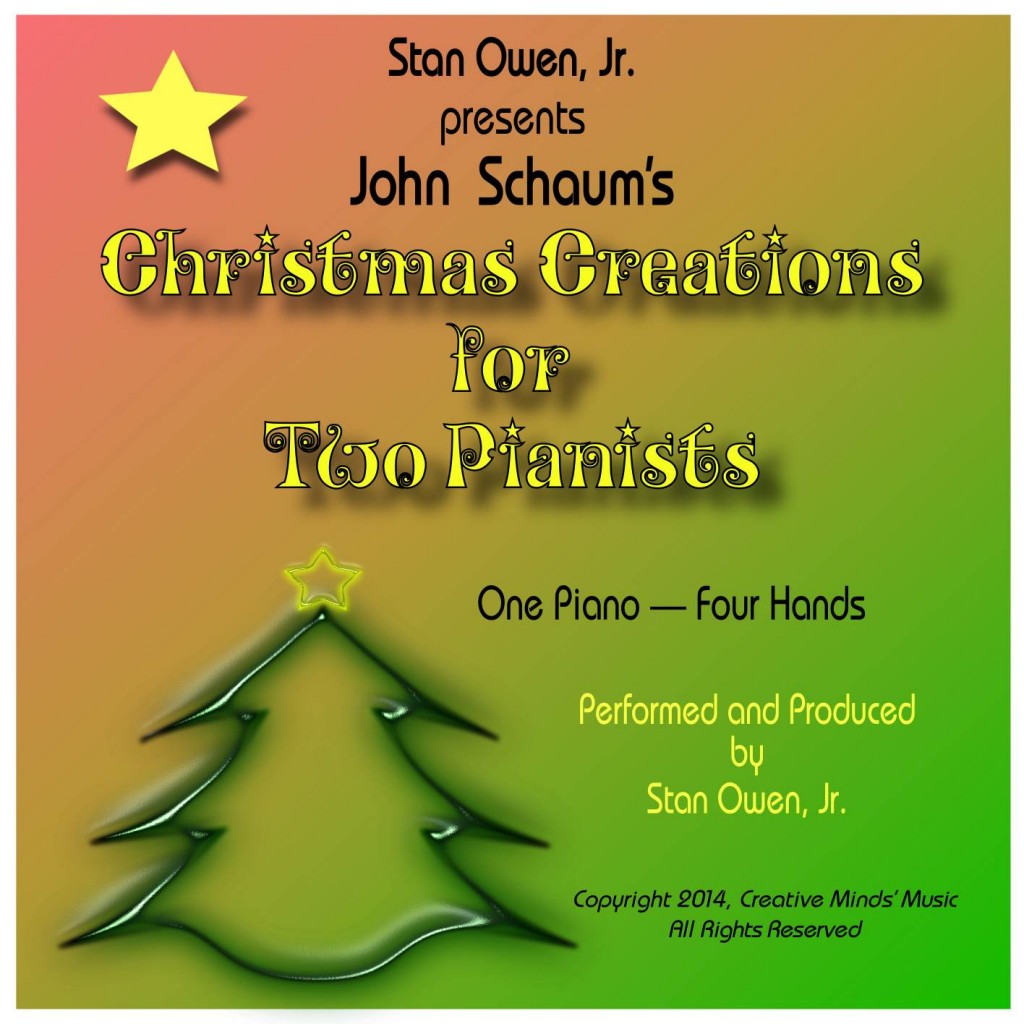 (From the Forward to "Christmas Creations for Two Pianists")
" Christmas Creations is a collection of music for two performers at one piano. The contents present the kind of music that captures both the holiday and the Holy Day spirit of Christmas. Not only is it 'the season to be jolly' but, it's also the season to be reverent. The arrangements consist of rich harmonies and exciting rhythms and are designed for the experienced pianist. The secondo (lower) parts are not merely accompaniments but are an artistic part of the total musical fabric. "
———
My Mother and I began yearly, playing this set of John Schaum Christmas arrangements, sometime in the 1980's. Meanwhile, my sister, Cathy and I also played them and continued to more-or-less-yearly try-to-play them since our Mother's 2012 death.
I recorded a first-cut version of these pieces during the days between November 30 – December 6, 2014. It was only while practicing, before recording, that I realized that I had previously, almost exclusively, played the 2nd (lower) part on each piece. There were several of the pieces on which I had never previously played the 1st (upper) part.
I sincerely hope that you enjoy 2014's Christmas musical offering. I dedicate this year's project to the memory of our dear and precious Father, who died on December 16, 2014. He was our inspiration, encourager, and greatly enjoyed hearing us play these arrangements for him.
Merry Christmas & Season's Greetings from Stan Owen, Jr. & Creative Minds' Music.
Click on the mp3 player to play

| Title | mp3 Audio | Composer |
| --- | --- | --- |
| Parade of the Toy Soldiers | mp3 | Leon Jessel |
| O Come Little Children | mp3 | J.A.P. Schulz |
| What Child Is This? | mp3 | Old English Air |
| Jingle Bells | mp3 | J. Pierpont |
| Deck the Halls | mp3 | Traditional Welsh |
| Toyland | mp3 | Victor Herbert |
| March of the Toys | mp3 | Lewis H. Redner |
| Joy to the World | mp3 | G.F. Handel |
| O Come All Ye Faithful | mp3 | Latin Hymn |
| Arrival of Santa Claus | mp3 | H. Englemann |
| Silent Night | mp3 | Franz Gruber |