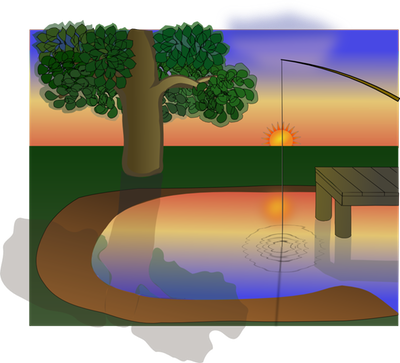 For a long time I wanted to use my synthesizers to produce a whistling version of the "Andy Griffith" television show's musical theme-song.
I eventually transcribed this recorded, whistling arrangement that included parts: whistling (2), guitar accompaniment, bass, brush-snare, and finger-clicks. To demonstrate its flexibility and capability, I decided that I would use use a single instrument, my (little) Alesis Ion, to make all of this song's instrumental sounds.
A no-longer-available-online-video featured two versions (from 1960 and 1965) of the show's opening scene, during which Andy and Opie (Ron Howard) are walking along a dirt road to their fishin' hole. The song's lyrics invite us to take down our fishin' pole and to meet at the Fishin' Hole. I had never previously heard this version of the theme that features Andy Griffith singing it.
This site posts the song's lyrics and asserts that the music was composed by Earle Hagen and Herbert W. Spencer and that the lyrics were written by Everett Sloane. Wikipedia posts a list of all 249 episodes of the Andy Griffith Show from its eight (8) original seasons.
I hope that you enjoy my performance of the Andy Griffith Show theme song and the original art intended to illustrate the allure of an albeit imaginary fishin' hole.